The holiday season has long been over. Wasn't it nice to relax away from your workplace and escape the stress of traffic jams?You were able to sleep longer, binge watch K-dramas and eat all you can. Paella, lechon and hams have been heartily consumed as you spent another Christmas and New Year with family and friends. Yes! Food will always have the biggest part in every occasion.
Some of us cooked spaghetti and decorated the tables with cakes alongside rice cakes, ice cream, salad and pork barbeque. While many enjoy family trips, others bask with food since (as most Filipinos say) the celebration happens only once a year.  People become carefree that they forgot to monitor their cholesterol and blood sugar.
The good news is Department of Health (DOH) has been giving away medications for Filipinos who have chronic diseases of hypertension and diabetes through the regional rural health units (health centers).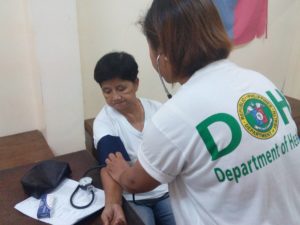 Yes! It's free! And here is how to get it.
Visit the most accessible health center or a primary health care facility in your area. They will give you a medical check up to know your condition and make a record.
Take the records to the Rural Health Units (RHU) which has the jurisdiction in your area and have the Barangay Health Workers (BHW) confirm your diagnosis. Expect them to use a sphygmomanometer (Blood Pressure Apparatus) and glucometer.
Once they have confirmed your diagnosis as hypertensive o diabetic, they will enroll you to DOH Hypertension and Diabetes Club.
As a member of DOH Hypertension and Diabetes Club, you can get free medications. If you are hypertensive, you can avail Losartan, Amlodipine, and Metoprolol. Diabetics can get Metformin.Club members can also join healthy lifestyle programs in their barangay to help them control their blood pressure and blood sugar.
Hypertension in the Philippines – DOH
DOH revealed that at least six million Filipinos in the country was diagnosed with diabetes.
Moreover, Dr. Augusto Litonjua of Philippine Center for Diabetes Education Foundation shared that this figure can even double to 12 million by 2040.
Hypertension or commonly called high blood pressure can cause heart failure, kidney diseases and stroke. Due to the prolonged high pressure in the blood vessels, it can cause strains and irreversible damages to kidneys, brain and hearts. There is no denying that it can be fatal too.
While hypertension is one of the leading cause of the deathliest diseases, it is very preventable! Yes, you can control hypertension with a change of lifestyle. Lifestyle modifications including healthier diet, smoke cessations and active daily living activities can lower blood pressure to less than 130/80 for those older than 65 years old.
As simple as it may seem, it will take hard work, self-control and time to get it under control. The nurses, doctors and BHW are tasked to guide hypertensive individuals plan their diet and exercise.
Diabetes in the Philippines – DOH
Diabetes has heavy complications than include kidney failure, blindness and even unhealing wounds that can lead to amputations. It can cause drastic health issues while could have been prevented with a healthy lifestyle.
DOH have created various programs such as giving free medications to reduce the mortality, morbidity and disabilities caused by diabetes. And though it is non-communicable, the number of diabetic patients continue to rise over the years.
As of 2017 more than 600,000 Filipinos are registered in the DOH Hypertension and Diabetes Club as part the initiative to address Non-Communicable Diseases (NCD). If you are hypertensive or diabetic, you must not miss this DOH program. Though you can switch to healthy lifestyle, you must still not forgo your medications. Get it for free in your nearest RHU or health centers.
-Marie Grace S. Ravina, RN