Diabetes is a condition in which your blood glucose levels are too high.
 Glucose is a simple sugar you get from the food you eat and your body utilize it for energy.
Your body processes the food you eat into glucose
and your
blood carries glucose
(blood sugar) to all of your cells in your body to use it
for energy
. When
glucose level is higher than normal, your pancreas makes more insulin
to try to get cells to respond. Eventually, your pancreas produces
minimal to no insulin
or your body no longer respond appropriately to insulin (insulin resistance).
Main types of Diabetes:
-Type 1 happens due to the destruction of insulin-producing cells of the pancreas by the immune system. A person with type 1 diabetes produces no insulin and must use insulin injection to control their blood glucose.
–Type 2 occurs mostly develop over several years and can go on without any noticeable symptoms.
-Gestational diabetes is a type of diabetes that occurs during pregnancy and usually disappear after giving birth.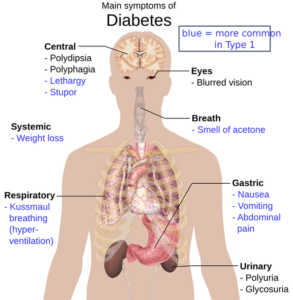 Risk factors:

-Obesity
-Age 45 years old and above
-Physically inactive
-Family History of Diabetes
-History of gestational diabetes from past pregnancy
What are the complications?
-Heart disease or stroke
-Kidney disease (nephropathy)
-Eye problems (retinopathy)
-Nerve damage (neuropathy
-Foot problems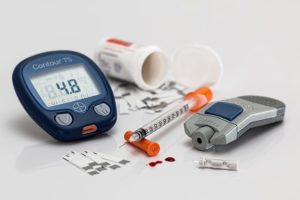 Diabetes Management: 
–Eating healthy and stick to your daily meal plan (Avoid or Limit foods high in saturated fats or trans fat)
-Being physically active ( at least 30 minutes on 5 or more days of the week)
–Quit smoking if you smoke
-Take medications as prescribed (pills and/or insulin)
–Check your blood sugar

For type 1, your doctor may recommend 4 to 8 times daily
For type 2, your doctor may suggest testing your blood sugar two or more times a day, it depends on the type and amount of insulin you need.
–Manage stress
–Prevent complications